Members Get 10% Discount

Not a Member? Join Today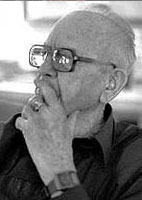 Milford Zornes n.a. (1908-2008) was recognized as a leader in the California Style watercolor movement which began in the 1920s. Zornes' style differed from the traditional use of watercolors in which color was added to detailed pencil drawings.

His work is characterized by the application of transparent washes of color to large sheets of paper, allowing the white to show through and define shapes. Zornes' paintings are represented in the collections of the Metropolitan Museum of Art, Corcoran Gallery of Art, Los Angeles County Museum of Art, the White House, and the Library of Congress Collection.

He also created New Deal murals for post offices in his hometown of Claremont, California and in El Campo, Texas. In 1928, 20-year-old Milford Zornes hitchhiked across America from his native Oklahoma, worked on the docks of New York, and after earning his ticket, shipped out to tour Europe.
After his return to America in 1930, Zornes settled in Los Angeles, studying art with F. Tolles Chamberlin and Millard Sheets. By 1933, Zornes was receiving awards for his watercolors which he produced for the Public Works of Art Project. He was honored with a one-man show at the Corcoran Gallery of Art in Washington, D.C., and one of his watercolors was chosen by the Roosevelts to hang in the White House.

He became president of the California Water Color Society. Zornes was drafted after the outbreak of World War II, and was assigned to be an official artist in the China-Burma-India Theater of Operation. Most of the works he produced in this period were turned over to the Pentagon. After the war, Zornes settled in Claremont, California to paint, teach, and travel. In 1963, he purchased the former home and studio of Maynard Dixon in Salt Lake City, Utah to use as a location for regular watercolor workshops.

Zornes was a much admired instructor, having taught at several institutions, including Pomona College, Otis Art Institute, and Pasadena School of Fine Arts. He invented a traveling classroom, taking his students to exotic destinations for his painting workshops, including China, Alaska, Mexico, Ireland, Italy, Spain, and Hawaii.

Milford Zornes attended his 100th birthday party, a celebration of his lifelong artistic career, on January 26, 2008 at the Pasadena Museum of Art. He died less than a month later on February 24 and his last one man show was at Square i Gallery in Claremont.