Members Get 10% Discount

Not a Member? Join Today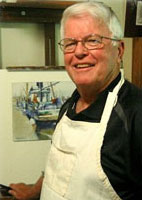 Patrick is an accomplished artist in most media including Watercolor, Oils, Acrylics and Ink Drawings
He is recognized for his ability to create the essence of his varied subjects and well as "getting it right" and he says. His mastery of drawing is obvious in all of the many works.
Patrick is a Southern California Native but his works are in collections around the globe. He is a sought after teacher and lecturer who has spent the major part of his life in the pursuit of of creating and sharing his passion for painting. For the most part Patrick is self taught with the exception of completing the Famous Artist Schools Course and receiving a scholarship to the Los Angeles Art Center in the early 1980 where he absorbed the acute attention to value, line, shape, composition and color associated with the works of a fine artist and illustrator.
Patrick's paintings can be found in a myriad of public and private collection in the US and around the globe.
Sailing Ships to Baseball Players.
Patrick has painted commissions of famous baseball players to the family dog.
Over a lifetime of painting and teaching, Patrick has worked as a gallery artist and illustrator. He has participated in many invitational and juried shows. His many awards include the Napa Valley Invitational and the California Best Of Show Invitational. Two shows he is particularly proud of. "From an early age, God gave me a pretty clear path to follow and that is my reason and passion for painting today."
Today his paintings are shown in the Squarei Gallery, Claremont, CA; The La Quinta Fine Arts Gallery, La Quinta, CA and Ken Scott's Imagination Gallery, Sister's. Oregon.
You can view his works on his own web site: www.patrickdooleysart.com