Members Get 10% Discount

Not a Member? Join Today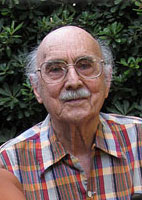 Harrison Mc Intosh was born in Vallejo, CA , on September 11, 1914. During his high school years, in Stockton, CA, the local art museum became a source of inspiration for him and his brother and both determined to study art. While his brother became a painter, Harrison was more interested in working in three dimensions.
He took a first class of ceramics with Glenn Luckens, at USC, and set up a studio in the garage of his parents, in Los Angeles.  After the war, thanks to the GI bill, he was able to enroll in the Graduate School of Art of Claremont CA and he studied there under Richard Petterson. His experiences were enriched by studies at Mills College under Bernard Leach, and later at Pond Farm, with Marguerite Wildenhain. Back in Claremont, he shared his studio with the potter Rupert Deese, and to this day, they still share the space and the equipment at the home of Harrison, at Padua Hills, near Claremont.
The strength and the subtle variations of Harrison's classic pottery forms, have a very contemporary character due to the direct ,simple, abstract surface decoration which blends and harmonizes completely with the form.
His work has remained at once strong and sensuous and evoking great purity of thought and a transcendent peace. Through the years, Harrison has also developed a series of elegant abstract sculptures combining stoneware and chromed steel or polished stainless steel. These sculptures are also inspired by nature, but suggest the masses and the weightlessness and movement of the cosmos.