Members Get 10% Discount

Not a Member? Join Today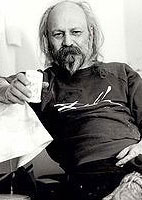 Herach KARAPETIAN (1943--2006) His work (though diverse and multi faceted) consistent of some recurring themes and images. First and foremost, his images reflect his pure, almost child-like love of colors and all their powers and vibrant possibilities. The colors in his works veritably dance on the canvas to a melody of their own and seem to bring light to whatever space they are in.
Stylistically, Herach was a surrealist and a master in water color techniques. As he aged he turned to oil as he believed it was a more eternal medium; he preferred painting on canvas rather than paper due to its resiliency and longevity. He often used complex combination of geometric patterns and colors as an extension of traditional Persian Mosaics.
He died in poverty but will everlastingly enrich our lives with colorful images of beauty embedded in time, mysticism, and truth. His paintings remind us that the real freedom lies in unity with nature, love, time, and beauty.