Members Get 10% Discount

Not a Member? Join Today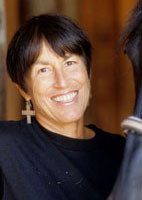 Susan Hertel (1930-1993) was born in Evanston Illinois, receiving her BA in Art from Scripps College in 1952.
She also studied at the Kann Institute in Los Angeles.

For nearly 30 years she collaborated with Millard Sheets and Denis O'Connor, designing and producing public murals and art works in various mediums throughout the United States for Home Savings of American, as well as for libraries, hospitals, restaurants, houses and churches.
In 1980, Susan left California to relocate near Cerrillos, New Mexico, where she focused on her own work; gouache studies and large oil on canvas paintings.

Hertel's paintings have been exhibited in solo and group shows in Southern California, Arizona, Idaho and New Mexico and are in numerous private collections.